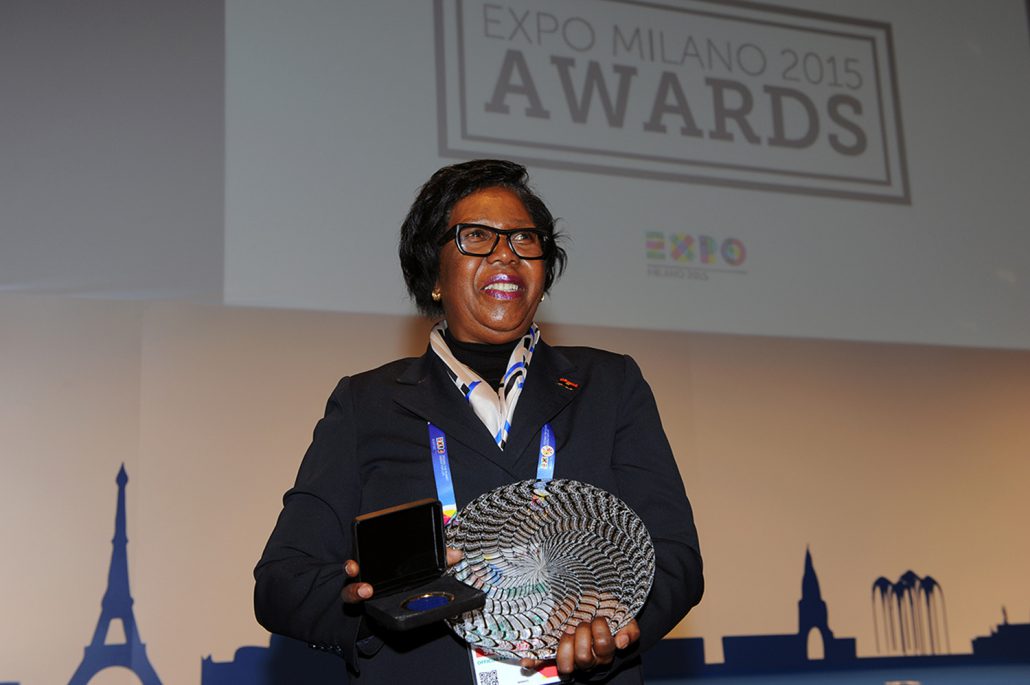 Expo Milano 2015
With 5 awards and a record 2 million visitors, the Angola Pavilion at the Universal
Exposition of Milan is the big winner in all categories.
Expo Milano 2015 and its theme of "Feeding the Planet, Energy for Life" has come to an end after 184 days, the Angola Pavilion having waged an admirable campaign, earning widespread recognition and winning five important awards.
These include the Award for the Best Pavilion of the Universal Exposition of Milan 2015 given by the Class Expo Pavilion Heritage Awards, which honours the pavilion that best communicates and interprets the THEME of the EXPO "Feeding the Planet, Energy for Life" and leaves the most lasting legacy for the future of humanity.
Organised by Class Editori and Laureate International Universities, the competition is judged by students from around the world and by architecture and design experts, and aims to honour projects that most contribute to innovation in architecture and design in terms of functionality and sustainability.
The Angola Pavilion also received the Special Prize (WAA) from the World Association of Agronomists, in conjunction with the Italian Order of Agronomy and Forestry Engineers, in the Class Expo Pavilion Heritage Awards. In this category, it beat out the favourites, winning first place ahead of the UN and FAO's Pavilion Zero and the Israel Pavilion.
Another prize won was the Silver Medal from Bureau International des Expositions, considered one of the exhibition's most important awards. Angola secured second place in the category Best Theme Development in the Exhibition, based on dietary and nutritional practices.
The Institutional Gold Medal was awarded to the Steering Committee of the EXPO by BIE (Bureau International des Expositions), which was presented to the President of the Committee of Pavilion Commissioners General and the Commissioner General of Angola, Albina Assis Africano. In being recognised for her excellent work in leading the organisational structure of commissioners general from 145 participating countries, the Angolan commissioner became the first African to receive a distinction at this level within the BIE.
The special prize WE – Women for Expo, in collaboration with ARC VISION – Women and Architecture, a special initiative by EXPO and the Italcementi Group that recognises the contributions of women architects, was awarded to Paula Nascimento, a member of the team responsible for the Angola Pavilion project.
The architectural and museological project
The architectural and museological project was led by Atlantic Alliance | Muse, which operated on a turnkey basis, collaborating on conception, architecture and design, museography, content and audiovisual production, engineering, construction and theme development, and coordinating a multidisciplinary and multinational team of professionals.
The pavilion's structure paid special attention to the use of sustainable materials and was dismountable.
With an experienced team and a portfolio that includes 23 pavilions in 6 world exhibitions and various international awards, MUSE – MUSEUMS & EXPOS is a specialist in cultural consulting and developing projects in museums, exhibitions, theme parks and other cultural spaces.